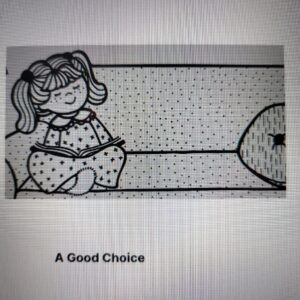 Lauri curled up in the corner of the couch with the open Bible storybook on her lap. She was going to read one of her favorite Bible stories.
"What story did you choose for tonight, Honey?" asked Lauri's mother.
"I'm going to read about Queen Esther. I think it's so wonderful how she was chosen to be queen. There were probably a lot of other girls who were hoping they would be chosen." Then Lauri asked, "Do you know why I chose this story?"
"No, I don't. But I'm sure you have some special reason," said her mother.
"You're right. For our Sunday school project we are supposed to choose a Bible character and tell how God used that person. We are also supposed to tell why that person was chosen by God. We need to tell if they were brave or loyal or obedient or other things like that. I think I'll tell the story of Esther."
"That would be a good one, Lauri," said her mother.
"Mom, will you help me make a list of some of the things about Esther's life. I will need to tell the reason she was chosen to be queen. I know she was beautiful, but. . ." Lauri wrinkled her nose and sighed. "There were probably lots of beautiful women, so that can't be the only reason. Why do you think Esther was chosen by the king?"
"Well, the Bible tells us that the king loved Esther more than any of the other women. But more than that, I think it was part of God's plan. He wanted her to be chosen. She had been brought up to know and to love the God of Israel. God knew He could trust her."
Lauri nodded her head. "Yes, and after she became queen, a wicked man named Haman tried to have all the Jewish people killed! Esther went to the king about it."
"That took courage, didn't it?" her mother went on. "Who told her to go to the king?"
"I know that answer," Lauri smiled. "Her cousin, Mordecai! And Esther obeyed him, even if she was scared."
"Yes," Lauri's mother replied, "and that was important. So we can see that Esther was faithful to her God and loyal to her own people. She was also courageous and obedient. God still looks for these special qualities in people today. Does this help to answer your question about why Esther was chosen to be queen?"
"Yes," Lauri answered. "I think both God and the king knew that Esther was special."
PARENT'S CORNER
The dramatic story of Esther's courage in risking her life to go before the king on behalf of her people is the subject of this lesson. Your child will learn that Esther's unselfish regard for others made her a person God could use to preserve His people.
Review the story with your child and then, together, plan a menu that Esther might have used for her banquet for the king. Let your child design a napkin and a place mat for the occasion.
If your child wishes, let him make a matching "crown" for his father or other family member, and let that person use the napkin and place mat at your evening meal. Encourage your child to retell the story as an explanation at the dinner table.