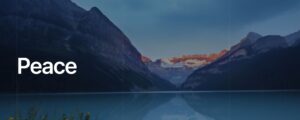 Our Lord was a miracle-working Savior on earth, both in the lives of men and in nature. We know He is the same in our day. He gave peace to those who had no peace—He will do the same today. He caused the winds to cease and calmed the raging water—He can do the same today as He puts at rest the storms in the lives of men.
QUESTIONS
Note the scriptural description of the storm on the Sea of Galilee as given in the text: "There arose a great storm of wind, and the waves beat into the ship, so that it was now full." Have you ever been on a ship at sea during a storm? What significance is shown by Jesus' restfulness during the storm?
What caused the Lord to awaken from His sleep? And what was His response?
The Lord rebuked His disciples for being afraid. Why? Is there never reason for us to fear? What lesson can we apply to our own lives from this happening?
"What manner of man is this, that even the wind and the sea obey him?" the disciples wondered after the calming of the storm. Name several other instances in which Jesus displayed His power over nature. (See Matthew 14:20,25; 17:27; 21:19.) What do these miracles prove, and what should be our response?
In what condition did Jesus and the disciples find the demoniac? What was the cause of this condition?
What were the results of man's efforts to help the situation?
How was the man healed? What was the evidence of his healing?
What was the attitude of the citizens of the city and country? What did the man who was delivered want to do? What instructions were given to him by the Lord?
For what purpose was the Son of God manifested? See 1 John 3:8.
THEME THOUGHTS