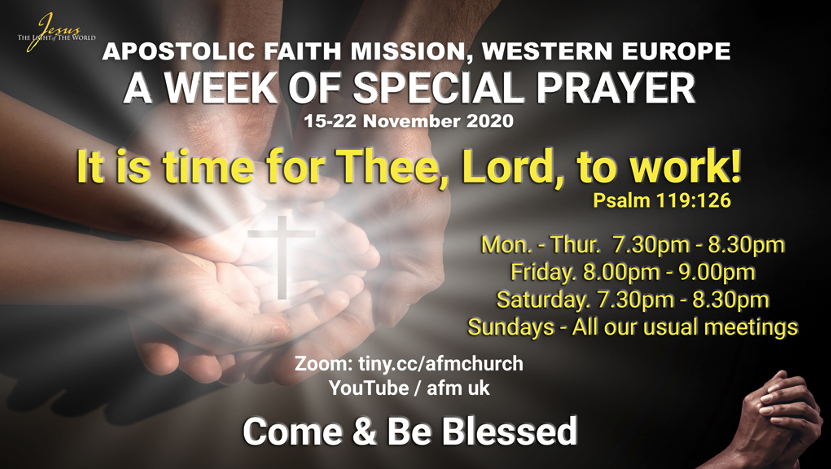 "It is time for Thee, Lord, to work." (Psalm 119:126)
Looking at the landscape of global events and seeing how the world seemed to be tottering from one crisis to the next, finally ending up with the problem of SARS-COV2 which transformed into a pandemic, the leaders of Apostolic Faith Church in Western Europe decided it is time to bring God into the middle of global crises if we hope to see a resolution quickly. Mankind seems to have reached the end of his capacity to deal with a crisis that seemed to be shifting on a daily basis, seems to re-invent itself at the smallest opportunity.
The response of the church was to call for a special prayer week that would allow congregants, even from the comfort of their homes, to virtually call out to the God of heaven for help, with the certain hope that He will hear our cries. The decision was based on the conviction that God is speaking to His world through this crisis and that the world needs to hear and pay attention.
The week started off on Sunday 15 November 2020 and is scheduled to run until Sunday 22 November 2020. The prayer meetings are set up to look through the scriptures and note instances where people had gone astray and rightly received the ire of a righteous God, but wherewith repentance, fervent prayer and fasting God's anger was turned away and He showed mercy to His people even in quite extreme circumstances, which to human mind would have been unforgivable.
The homily on the opening Sunday drew from Joel 2:12-17 and beyond. It showed an account of the people of God who had transgressed and were in imminent danger of the repercussion for their sins. The message to the people was a warning of dire things that would befall them if they continued along their current path. It was also a message of hope, an urgent call to avoid a "pandemic"!
Before this time, the people of Judah had been subjected to several disasters that had decimated their economy and reduced their lives to greatly uncomfortable levels. This was the place they were in before the warning came of an even greater disaster looming! They needed to respond, quickly. They did. They called a solemn assembly; they assembled the elders and they prayed for God to "spare the people". When they did, God answered. He promised them safety and comfort.
"Therefore also now, saith the Lord, turn ye even to me with all your heart, and with fasting and with weeping, and with mourning…..and turn unto the Lord your God; for He is gracious and merciful, slow to anger, and of great kindness…" Joel 2: 12, 13
We seem to be living in parallel times. The world has been ravaged by many disasters over the past few years. We have reached a point where we need to turn to the Lord…..for He will abundantly pardon.
"Fear not, O land; be glad and rejoice: for the Lord will do great things". Joel 2:21.

The week of special prayers continues until Sunday 22 November 2020. Throughout the week, every evening, different passages of scripture will be highlighted showing occasions that demanded prayer and fasting to get a response from God.
 Monday 16 November 2020
The special week of prayers continued on Monday with the focus on an account of the people of Nineveh, who passed from death into life. God sent the prophet Jonah to the people of Nineveh that their cup of iniquity was full and they should expect retribution within 40 days.
"…Yet forty days, and Nineveh shall be overthrown." Jonah 3:4
The response of the people was swift. From the king, even to the commoners and to their beasts, they all repented and turned to God. The king proclaimed a decree that all of them, including their animals, should observe a season of fasting and prayer.
"But let man and beast be covered with sackcloth, and cry mightily unto God: yea, let them turn every one from his evil way, and from the violence that is in their hands. Who can tell if God will turn and repent, and turn away from his fierce anger, that we perish not?" Jonah 3:8-9
The account told us that the people believed God and that was what directed their response. As their response was genuine and they were contrite, God responded.
And God saw their works, that they turned from their evil way; and God repented of the evil, that He had said that He would do unto them; and He did it not. Jonah 3:10
Prayer and fasting brought a great reward to the people of Nineveh. Through prayer and fasting, God can extend grace to us too and save us as individuals and our world as well.
Tuesday 17 November 2020
The Tuesday edition of the Special prayer week focused on asking God for a plan to do even things He has permitted. God allowed a decree for the return to Jerusalem but Ezra still thought it was important to seek the face of God for guidance – the right way to go.
"Then I proclaimed a fast there, at the river of Ahava, that we might afflict ourselves before our God to seek of Him, a right way for us"… Ezra 8:21
We also need God to guide our steps in our journeys through this our world, especially with the dangers that abound these days, the least of them not being the pandemic.
"….And the hand of our God was upon us, and He delivered us from the hand of the enemy, and of such as lay in wait by the way." Ezra 8:31
Our God will certainly guide us through the stormy waters of this plague that is threatening our world, taking us through all dangers until we reach the gates of heaven.
Wednesday 18 November 2020
The theme of the week of special prayer remains "It is time for thee, Lord, to work" and this was emphasised at the start of prayers. Calling on God to step into situations at the right time remain the best course for a Christian. Even Jesus Christ laid the example when He prayed throughout the night before picking his apostles. He also fasted for 40 days and 40 nights.
As they ministered unto the Lord and fasted, the Holy Ghost said, Separate me Barnabas and Saul for the work whereunto I have called them. Acts 13:2
As we also fast and pray to God, the Holy Spirit will speak to us, guiding us through whatever we may need to do. This includes praying for our brethren in areas where the Lord has not yet given us churches and for the Lord to give us our own campsite!
Thursday 19 November 2020
Having just gone halfway through our week of special prayer, it is time to look at how to fast and pray in the right way that will be acceptable unto God.
…Behold, in the day of your fast ye find pleasure and exact all your labours. Behold, ye fast for strife and debate, and to smite with the fist of wickedness: ye shall not fast as ye do this day, to make your voice to be heard on high. Isaiah 58:>3,4
The Lord was able to clearly define through prophet Isaiah the type of fast that would move the hand of God. We also need to examine ourselves and our reasons for fasting and praying as God looks at the heart!
Is not this the fast that I have chosen? To loose the bands of wickedness, to undo the heavy burdens, and to let the oppressed go free, and that ye break every yoke? Isaiah 58:6.
May God help us as we fast and pray to make all our endeavours acceptable in His sight. May He show us individually, what we need to do so that our fasting and prayer will be accepted of God.
Friday 20 November 2020
God shows Himself merciful in every circumstance. As a matter of fact, the mercy of God is legendarily endless. The prayer today focused on a wicked King of Israel, Ahab, who in spite of his wickedness still found forgiveness and a "stay of execution" upon his rightful judgement.
And thou shalt speak unto him saying, Thus saith the Lord, in the place where dogs licked the blood of Naboth shall dogs lick thy blood. 1 Kings 21:19
This was the judgement that Ahab more than deserved. When he heard those words of condemnation his response was immediate and sober.
And it came to pass, when Ahab heard those words, that he rent his clothes, and put sackcloth upon his flesh, and fasted, and lay in sackcloth, and went softly.1 Kings 21:27
God noticed! He notices my and your reactions to the many messages that He allows to come our way.
Seest thou how Ahab humbleth himself before me, I will not bring the evil in his days: but in his son's days will I bring the evil upon his house. 1 Kings 21:29
God has the authority to reverse a judgement that has been passed. In spite of the severity of Ahab's wickedness, God still took note of his repentance. May His mercy avail for us as we pray fervently during this period.
Saturday 21 November 2020
The prayer this day enjoined us to look at the example of Cornelius, a man who prayed fervently for a deeper experience with God, and God answered him directly by sending a heavenly messenger to visit him.
And Cornelius said, Four days ago I was fasting until this hour; and at the ninth hour I prayed in my house, and, behold, a man stood before me in bright clothing. And said, Cornelius, thy prayer is heard, and thine alms are had in remembrance in the sight of God. Acts 10:30-31
May the great God of heaven hear our prayers and give us speedy answers of peace. One man prayed fervently. God heard. God acted.
Sunday 22 November 2020
The final day of the special prayer week was a day of thanksgiving. With hearts full of gratitude to a God who offered us the opportunity to pray fervently with constant reminders of people who had carried out similar exercises in the past with attendant blessings and answers to prayers.
Remembering the many victories that have been received in the past, we look forward with hope to the many more that lie ahead, regardless of the many trials and enemies that might lie along the way.  Know that all we have are gifts from the Father of All above. We should give back to Him freely and willingly.
In everything give thanks: for this is the will of God in Christ Jesus concerning you – 1 Thessalonians 5:18.
We can sing with the songwriter:
He brought me out of the miry clay
He set my feet on the rock to stay
He put a song in my soul today
A song of praise, Hallelujah!
We need to take our attitude of gratitude to a new and higher altitude.