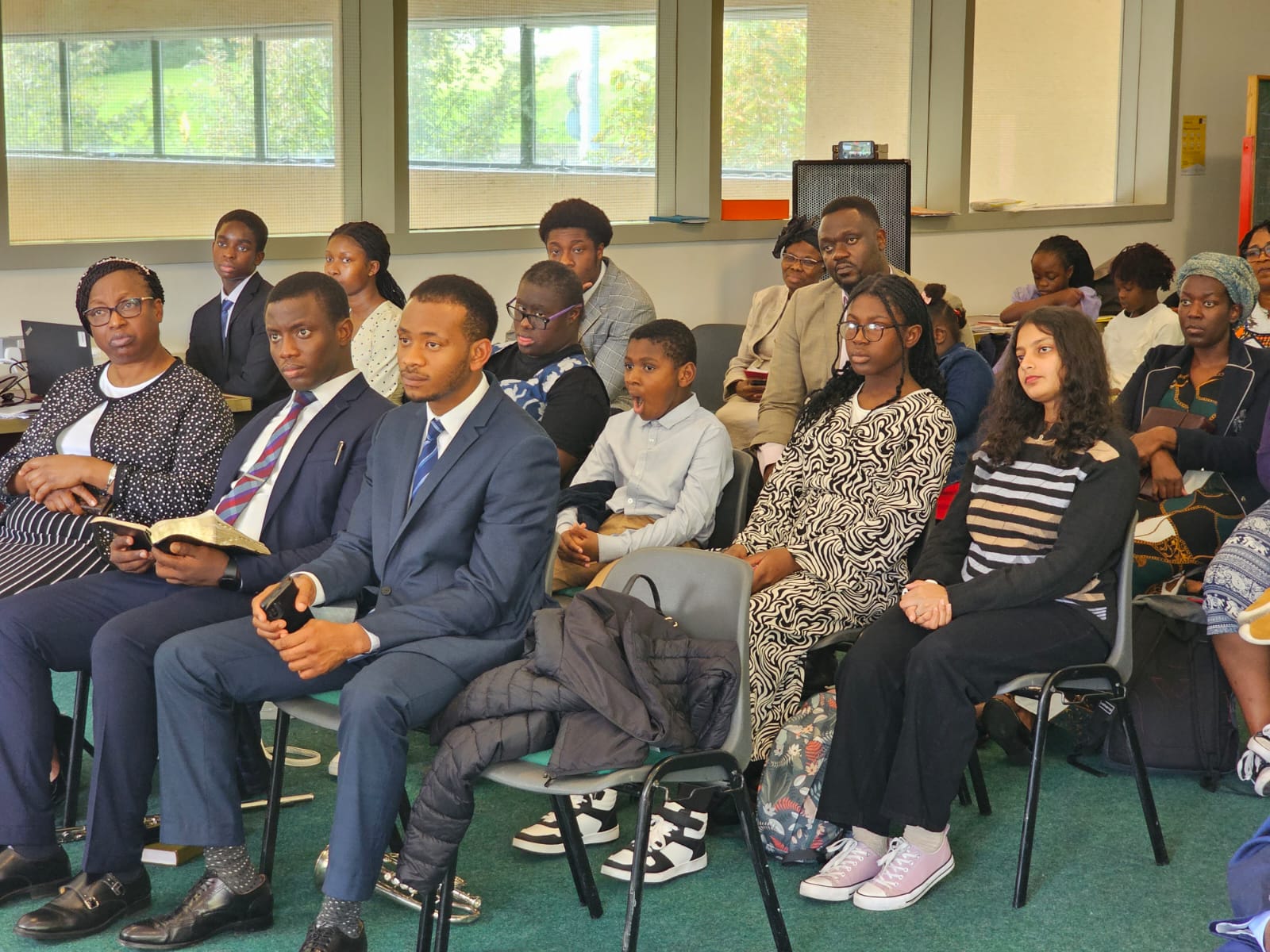 Reverend Isaac and Sister Stella Adigun from West and Central Africa (WeCA), with 10 other brethren from our UK and New York churches were received by the Ireland group for Sunday worship service on Sunday 08/10/23.
The Sunday school was opened with a clarinet solo by Lesley Chawanda. Sister Funmi Akinwunmi from Peckham, London taught the Answer Class with Brother David Ojo from Bexley, London taught the (Search) Adult Class, the Sunday school topic was Divine Healing. The closing song to round up the lesson was "The Great Physician Now is Near" by Adeniyi Allen-Taylor, after which the congregation was encouraged to pray and seek God's face for divine healing.
The devotional service opened with a youth quartet presentation, "Waymaker" by Sinach. Sister Stella Adigun, wife of Reverend Isaac led the congregation to sing praises to God using her testimony of miraculous healing to inspire the song "Praise my soul the king of heaven" by Lauda Anima, after which Reverend Niyi Olayisade from Peckham, London branch led the opening prayer.
The choir sang "Lead on O King of Glory" by Dunsin Oyekan, and then Sister Adenike Odulaja from New York sang "Little is much when God is in it" by Gaither, before the word of exaltation. Reverend Isaac Adigun expressed his heartfelt thanks to God and the brethren for prayer support since they relocated to WeCA in Nigeria, and the miraculous way, that God made his desire to fellowship in Ireland possible.
For the sermon, Reverend Isaac quoted from John 10:9 and spoke on "Jesus Christ the door to our salvation". He likened the Gospel of our Lord Jesus Christ to a Cruise ship, where you pay for the service and facility but you can only enjoy the experience if you enter in it. He encouraged those who have entered the door (Jesus Christ) to stay in so that they will continue to have access to all the benefits. Unsaved souls were implored to enter the Gospel ship as the door is still open, and God is here to help them. Brother Bisi Odulaja from New York gave the closing prayer that the Lord will help us not to leave the Gospel Ship for whatever reason, and also help the souls that have not met Christ to pray and enter in too. Everyone went on their knees to pray. There were 44 people in attendance
A reception was held at the end of the service with a sumptuous meal for all
All glory and gratitude to God Almighty, for using the cruise trip around the British Isles and Ireland, as a means of evangelism to the towns that were visited. We pray that many souls who received the gospel literature will be won unto Christ. Amen