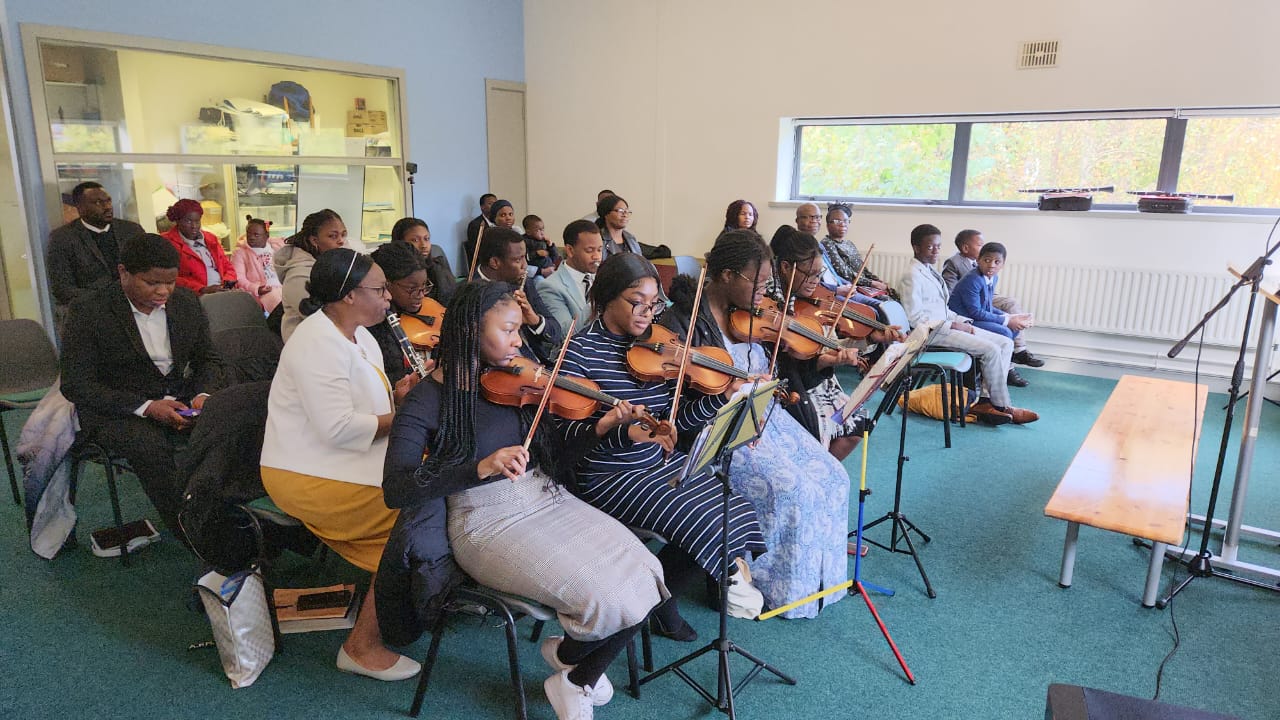 From Friday, November 10th, to Sunday, November 12th, the Ireland group organised a three-day special programme centred around the theme 'MY HELP' inspired by Psalm 121:2.
Day 1
The first day commenced with a prayer gathering on Zoom. Participants from various regions, including the Republic of Ireland, Northern Ireland, and other countries, were in attendance. The session was aimed at seeking divine assistance and experiencing God's presence across all aspects of life, with the collective trust in God centred on making the seemingly impossible aspects of our lives feasible.
The guest minister, Reverend Francis Odudu (Mainland Europe Regional Director), along with his wife, Sister Christiana Ola-Odudu, who both arrived in Dublin earlier that day, actively participated in the event. Brother Francis Odudu urged attendees to cultivate a strong relationship with God, emphasising the importance of placing trust in God while seeking answers to their prayers. Drawing from biblical verses such as Psalm 121:1, 2, and Psalm 37:5, the session concluded with the congregation singing the hymn 'Draw me nearer, blessed Lord,' by Peaceful Hymns, creating a profoundly blessed atmosphere.
 Day 2
The focus of the second day centred on the youth forum, where attendees were treated to a spread of tea, coffee, cake, and cookies. Precious Adeyemi led the opening choruses, and Moses Itanola led the opening prayer. Following a rendition youth choir of 'Praise is Rising' by Paul Baloche, the young participants engaged in fun games to test their knowledge of the Bible.
A brief video clip titled 'The Glorious Church—Bride of Christ' was showcased, featuring an archived Sunday School Review video from WeCA Headquarters in Lagos. This was followed by a prayer session, seeking divine guidance to prepare daily for membership in the glorious church of the Lord.
The second session kicked off with a captivating viola solo by Praise Ogundipe and a trumpet solo by Isaac Abdulhamid. The female youth choir delivered a moving performance of 'He Made a Way' by Anthony Brown, before the commencement of a question-and-answer session facilitated by Brother Francis Odudu. During this interactive segment, young participants had the opportunity to pose questions spanning various aspects of their Christian journey. The practical and insightful answers provided, contributed to a profoundly enriching experience. Brother Francis Odudu concluded the session with a brief word of exhortation, drawing inspiration from Lamentations 3:1, 21–27.
Brother Francis Odudu subsequently shared about God's unwavering readiness to help, recounting personal testimonies of instances where God had intervened in his life. He reassured the youth of God's trustworthiness in times of need.
The Youth Forum had an attendance of 42 individuals, with additional participants connecting online.
Day 3
On Sunday, the brethren gathered early for a time of prayer before the meeting started at midday. Brother Washington Chawanda initiated the proceedings with uplifting songs of praise and prayer. The children presented two clarinet solos, followed by a boy's trio rendition of 'He's got the whole world in His hands' by Laurie London
Sister Christiana Ola-Odudu led the Sunday school on the theme 'Deliverance' emphasising that total liberation from sin, flesh, and the devil is attainable through love and trust in God. The congregation was indeed blessed.
The devotional service, commenced by the orchestra that played 'Give Me the Old Time Religion,' by Theophilus and featured a soulful female duet, 'The Lord's My Shepherd' based on Psalm 23
The guest minister based his sermon on Psalm 61:2-4, titled 'The Rock That is Higher Than I' He shared the transformative story of a businessman who, at his breaking point, turned to Christ for help in his business troubles. Brother Francis Odudu underscored God as our immediate help, referencing Psalm 46. Drawing references from Isaiah 2:22, Jeremiah 17:5, Psalm 60:11,12, Psalm 118:8,9, and his personal experiences, he highlighted the limitations of relying solely on human support. Reading from 1 Samuel 2:30, he emphasised the importance of establishing a relationship with God through salvation and maintaining constant fellowship. Brother Francis Odudu stressed that God honours those who honour Him, clarifying that while God helps both Christians and non-Christians in times of trouble, divine assistance doesn't guarantee entry into heaven.
Concluding with Jeremiah 17:7–8, he assured the congregation of God's readiness to help those who trust in Him. Brother Joseph Adeyemi led the invitation song and prayer, followed by additional time for collective prayer.
The attendance was 37 individuals, with additional participants connecting online. The specially recorded theme song video, 'MY HELP' by members of the Ireland group, played throughout the three-day event, contributing to a joyful atmosphere. The gathering was a celebration of God's presence, brimming with promises of divine help for victorious living. May the received blessings be enduring and serve as inspiration to bring Ireland and its inhabitants closer to Christ.