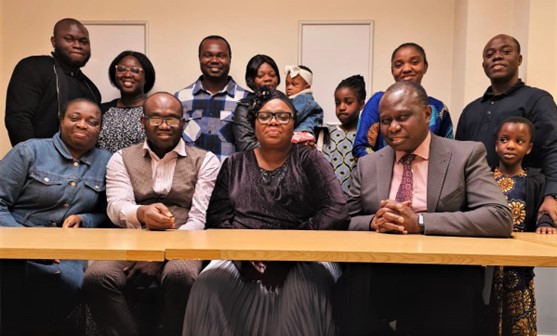 The Gospel Work Continues to Experience Growth – May 2023
Brother Ola and Sister Remi Balogun planned a visit to the Apostolic Faith Mission groups in Scotland during the last bank holiday weekend in May. Brother Ola is the Regional Director for Scotland. It was indeed a thrill to see the gospel work making good progress in the three major cities (Aberdeen, Edinburgh, and Glasgow) where our church groups are located.
Glasgow
Brother Ola and Sister Remi arrived at Glasgow International Airport at about 11:25 pm on Friday, May 26, 2023, as part of their visit to The Apostolic Faith Mission UK groups across Scotland. They were received by Brother Anthony John, who also transported them to their lodge for the night. On Saturday morning, brethren in Glasgow gathered at the Travelodge Glasgow Central at 9am for a pre-scheduled meeting with Brother Ola. It was an exciting time of fellowship for the thirteen people in attendance including the Baloguns.
The meeting started with singing, "We are never, never weary of the grand old song", followed by an opening prayer by Sister Folasade John. Brother Tunbosun Oyedokun then made an opening remark, which started with an appreciation to Brother Ola for the visit and prayer support for the group. He also acknowledged God's faithfulness and answered prayers, evident in the group's numerical growth since Brother Ola's last visit. The group, comprising about twenty individuals, meets weekly for Sunday school and music training.
Addressing all, Brother Ola expressed gratitude to the assembled brethren for the warm welcome, particularly their unwavering dedication to spreading the Gospel in Glasgow. He highlighted God's benevolence as evident in how various government policy changes have worked for the good of the gospel by providing opportunities for more people to migrate to the UK. He then encouraged the attendees to intensify their evangelistic efforts in order to bring in more people to the gospel, especially among the locals. While it may be difficult to spread the gospel to people of different nationalities and cultures, he emphasized that it is achievable by submitting to the guidance of the Holy Spirit and remaining adaptable in implementing approaches that enhance outreach to diverse communities. After a closing prayer, we enjoyed more fellowship and refreshments together. The Baloguns departed Glasgow for Edinburgh at 11:30 AM to continue their visit to other Scottish cities.
Edinburgh
On arrival, Brother Ola and Sister Remi met with the group at the rented facility used for Sunday services. An evangelistic service was held with 26 people in attendance, and it was a blessed time in God's presence.
The service started with a keyboard prelude, followed by a violin solo by Sister Tanya Makombe. Then the choir sang "God is bigger than any mountain", followed by a solo "Great is thy faithfulness" sung by Sister Remi Balogun. The congregation then sang some praise songs and Brother Matthew Ibukun, the leader of the Apostolic Faith work in Scotland, offered the opening prayer.
Sister Debbie Olorunsaiye, the leader of the Edinburgh group, made the announcements, which was followed by a baby dedication service. After the baby's dedication, the parents testified of God's goodness during the pregnancy and birth. A special song, "The power of God is just the same today", was sung before the sermon by Brother Ola Balogun. Using the account of Moses from Hebrews 11:23–27, he reiterated the need to be humble to get saved, stay saved, and work for the Lord. A call to prayer was given, singing "To God be the glory". A blessed time of fellowship followed after which the Baloguns left for Aberdeen with Brother Matthew and Sister Juliet Ibukun.
Aberdeen
On Sunday, May 28, 2023, Brother Ola Balogun and his wife, Sister Remi worshipped with the Aberdeen saints and it was a time of refreshing in God's presence and fellowship. At 10.30 am, the Sunday school service began with a clarinet and flute rendition of "O God our Help in Ages Past". We were all blessed by the interactive Sunday school class on "God's Work" moderated by Brother Wale Oladokun. We were reminded that, as saved souls, all our talents are useful and needed to propagate the Gospel.  At the end of the lesson, we were encouraged to pray about what we had learned.
After a time of prayer, Brother Wale Oladokun played his flute to raise us from our knees. This was followed by the choir singing "Onward Christian Soldiers" and "Take My Life and Let It Be". Brother Sam Osifeso led the congregational singing. In the announcement, our Scotland and Aberdeen group leader, Brother Mathew Ibukun introduced Brother Ola and Sister Remi. Following the announcement, the choir sang, "Rescue the Perishing," The scripture reading was taken by Brother Mathew from Philippians 3:7–14, and the last special, a duet titled "I'll Wish I Had Given Him More" was sung by Sister Ireti Olukitibi and Sister Bola Oladimeji. Brother Ola gave a brief and powerful sermon on the importance of being purpose-driven as Christians. We were encouraged to always have Heaven as our vision and our purpose to be like God. We were told that "without purpose, life has no meaning." After "Jesus, I my cross have taken", Brother Matthew led the closing prayer. We had a blessed time of prayers at the altars afterward.
After praying to our satisfaction, we exchanged pleasantries, ate a delicious meal together, and continued interacting outdoors as it was a bright Sunday. Some beautiful pictures were taken to mark the occasion. We all returned to our homes feeling blessed and revived.
Early Monday morning, Brother and Sister Balogun were driven to Aberdeen Airport, where they boarded their flight back to London. We thank God for the success of their visit and the safe journey granted to them from Friday evening to Monday morning. Glory be to God!