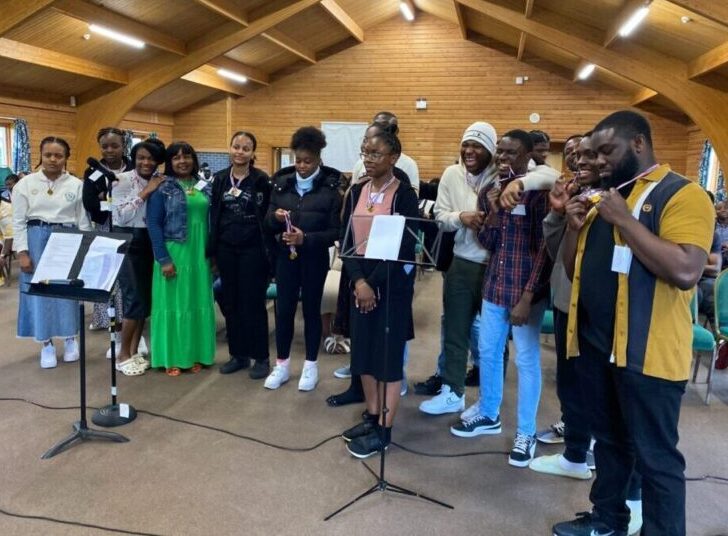 Youth camp 2023 began on Friday, 05th of May 2023. In the afternoon, youths from all branches in the UK including our international guests started arriving at the Pioneer Centre Kidderminster – Camp centre, in anticipation of the full activities to take place starting from Saturday morning. The rest of Friday was used in settling into rooms due to the late arrival of a number of delegates coming from far distance to the centre.
Saturday morning started early with the morning devotional, in which the focus was centered on "identity crisis". The discussion was about the sensitivity we need when experiencing it personally, how to encourage and support someone else that might be facing such a crisis, as well as the need for all to embrace their identity in God ultimately.
The first-morning session begin with a time of worship, then campers were split up into the 12 tribes of Judah and were tasked to do different activities. These included a team tug of war, a treasure hunt to find objects around the centre, and other team-building games. After this, there was a thought-provoking sermonette by Brother Simeon Bamgbaye. He reminded all that God sees us regardless of our state and linked it back to the theme of the youth camp, I.C.U. This led everyone to a great time of prayer.
In the afternoon, the outdoor activity was replaced because of the rain with a non-compulsory activity time. The campers used this time to bond with each other, rest or catch up with other campers.  After that, there was a worship session in which the youth sang along to praise God. This was led by Brother Joshua Osayemi with the audience suggesting songs along with those sung by the worship team. Many were touched by the songs and enjoyed this time.
The evening session was titled "ICU'r struggle" it began with 20mins of worship that led to an icebreaker where the audience had to answer true and false questions about some of the topics that were to be discussed later on. The bulk of the session included testimonies/presentations on what some of the campers had been through (grief, finding identity, mental health and eating disorder struggles etc). This was alongside a few panelists that were leading the discussion on these same topics, whilst giving their personal experiences and what they learned from the struggles they had been through. The point of the session was to show the campers that they were not the only ones to have gone through something difficult as a point of encouragement. After this, there was a prayer session where the campers could decide to pray personally or join a group prayer to pray about specific topics that were applicable to them/to be able to pray and intercede for others: these topics included, career, addiction, identity, purpose, grief, illnesses as well as other topics.
The devotional for Sunday morning was "Biblical kindness in an unkind world" and it was concluded that acts of kindness and compassion should be exercised in daily interactions with each other, in both private and secular life. At 10:00 am, Sunday school began. Everyone was split into various age categories for what was learned and to discuss Consecration. Examples were given of people that consecrated their lives in the Old Testament, New Testament, and even in our day. All were encouraged to consecrate themselves and things own for a deeper walk with God. The devotional service started at 11:00 am, it was filled with joyous congregational singing, instrumentals, and solos. The sermon was given by Sister Lara Shorinmade-Oguntoke, titled "Saving that which is lost". Sister Lara reminded all of the story of Zaccheus and how Jesus came to him  the tree he had climbed and declared Salvation to his house. She encouraged us to reach out to God as He is looking to save all that are lost. 
On Sunday afternoon there was a session titled "ICU in a new light" where a drama was presented. The drama centered on different points of view, of people's stories and how they came to God. The first is a modern representation of Rahab where although the character was judged for her appearance, God still chose her and the outward appearance did not matter. And the other modern spins included Paul of Tarsus (represented through a story of murder and redemption). The overall message given was that our past does not matter, that Jesus still loves all and wants to redeem everyone. He can make us a new creature in Him, old things will pass away.
In the evening we had an interactive evening revival service called "ICU in a new light part 2". It started with worship that led into a testimonial service where many people testified of how good God had been to them either during this youth camp as well as in the past year since the last youth camp. This was a blessed session with numerous people giving a shout to the Lord for the great things He hath done. The time of testimonies was followed by an interactive revival and evangelistic sermon where Sister Tosin Olayisade gave the message on seeking for treasure. Her interactive sermon included a display of volunteers from the congregation looking for "treasure" and the differences in how serious the searches were to liken it to our lives today when we seek God. All were challenged to think of seeking God with similar intensity, not just a mere surface search, but to seek Him deeply wanting to know more of Him. This led to a special time of prayer where the youths received their spiritual experiences amongst other blessings.
Monday's morning devotional was titled, "The Lukewarm Christian" Discussion was about the fact that as Christians, people should not wait until they have a problem or a need before seeking God. Instead, they should constantly long for more than where they are with God. At this point the youth camp was starting to draw to a close, the last session on Monday was an interactive session titled "ICU'r gifts" The 12 tribal groups from Saturday had to showcase whether they had really seen the people during this youth camp. A nominee represented the tribe to answer questions relating to the names of people in their tribe, their gifts/talents, their career goals, etc.
After this, Sister Lara Shorinmade-Oguntoke came forward to wrap up the youth camp. She gave a vote of thanks appreciating a number of people, this year's youth camp planning committee for a job well done, the ministry for their continuous financial and spiritual support, and the youths for their attendance. She went on to remind all of the key points starting from the touching sermonette by Brother Simeon on Saturday morning to the evangelistic sermon by Sister Tosin on Sunday night. She further encouraged all by giving her own touching personal testimony on how God can truly change a person. We had the closing song, 'Soft and tenderly Jesus is calling' which led all to prayer as the youth camp was rounded up. There were sad farewells but also the anticipation of what God is going to do during the year leading up to the next youth camp.